Enclosures for Air Cleaners
Ocean Container: 20 or 40ft
Freight EXW: Klaipeda by Ocean Freight
Item: Enclosures for Air Cleaners
We offer and manufacture universal enclosures for air cleaners both for companies and for the air cleaner manufacturers. The task of the air cleaner is to enable qualitative delivery of air indoors and to purify it from undesirable admixtures, for example, skin cells, animal hair, and dust. Our enclosures are made from polypropylene sandwich type panels that are heat resistant, waterproof, and with small density, which ensures the excellent durability of polypropylene.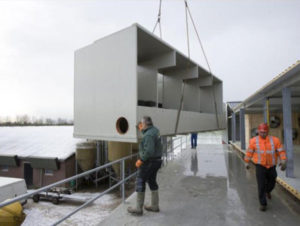 The LZT Group offers an individual approach to each projects. We can also create and install the full set – enclosure and air cleaner.
Application: In different industrial establishments, factories, service centers.
Advantages: Safe and suitable for any type air cleaner, adapted to be able to efficiently carry out its functions. Constructed from a hard and waterproof material – polypropylene.
We look forward to providing you a quotation.
Price: Request Quotation
Ocean Container: 20 or 40ft
Freight EXW: Klaipeda by Ocean Freight
Product of Origin: Lithuania
Item: Enclosures for Air Cleaners
Size: We build custom sizes per customer requirements.
Supplier Name: Gabriele Martinez ( LZT Group - Lithuania )
LZT Group can offer quality services of supply and maintenance of wastewater treatment plants, construction of engineering networks and specialized outsourced production.