Ocean Container: 20 or 40ft
Freight EXW: Klaipeda by Ocean Freight
Item: Beach Changing Cubicles
Material: Polypropylene sandwich type plates
Beach cubicles can be installed in various recreation places by water bodies (sea, river, lake). They can be built as private cubicles (lockable), where you can leave your clothes and items, or as lockable only from inside. They can be placed in public recreation places, health resorts, campsites, hotel properties or private properties. Cubicles can be equipped with different furniture, lockers, facilities etc. They are completed according to the wishes of the client.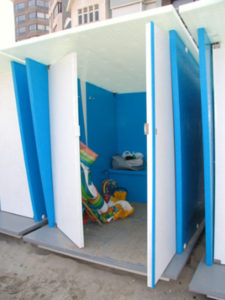 Application: In various recreational places by water bodies (sea, river, lake), in resorts or residences near water, or can be installed as a comfortable extra for the enjoyers of recreation.
Advantages: Easily installable and doesn't damage the overall view of the recreational place. Constructed from durable material with long service life, that is environmentally friendly and recyclable. In various colors and sizes, adjusted to the wishes and requirements of the clients. We look forward to providing you a quotation.
Price: Request Quotation
Ocean Container: 20 or 40ft
Freight EXW: Klaipeda by Ocean Freight
Product of Origin: Lithuania
Item: Beach Changing Cubicles
Size: We build custom sizes per customer requirements.
Material: Polypropylene sandwich type plates
Supplier Name: Gabriele Martinez ( LZT Group - Lithuania )
LZT Group can offer quality services of supply and maintenance of wastewater treatment plants, construction of engineering networks and specialized outsourced production.